The past two days have been an eye-opener for me. We've had a precursor to our rapidly approaching winter -- grey skies, brisk winds and cold temperatures that kept me trapped indoors roaming from window to window to get my daily dose of nature. As much as I hate staying in the house all day long, in retrospect I'm glad I was forced to view the outside from the inside.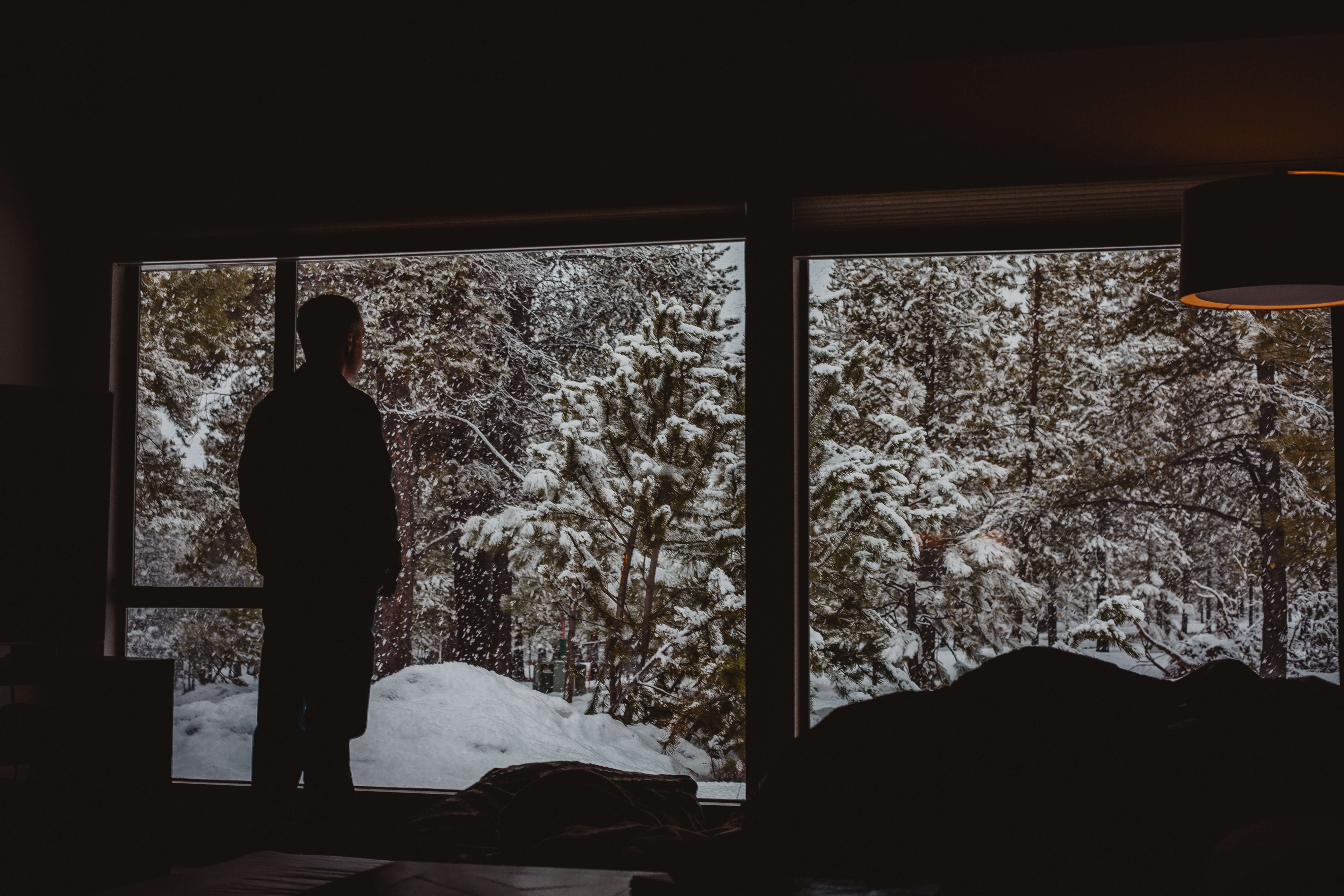 My summer and fall gardens are finally beginning to pop, but my winter gardens have seemed just a little blah to me the last two years. They have the elements that landscape designers recommend -- the form, the structure, the movement -- but to be truthful, their essentially monotone brown color scheme bores me. I realized this week that I need color -- especially in the bleak winter months!
The color of a winter garden is never going to rival the boundless vibrancy of spring and summer or even the mellow richness of fall gardens. However, adding splashes of vivid colors to the winter landscape can help lift your spirits and energize your life just when you need it most.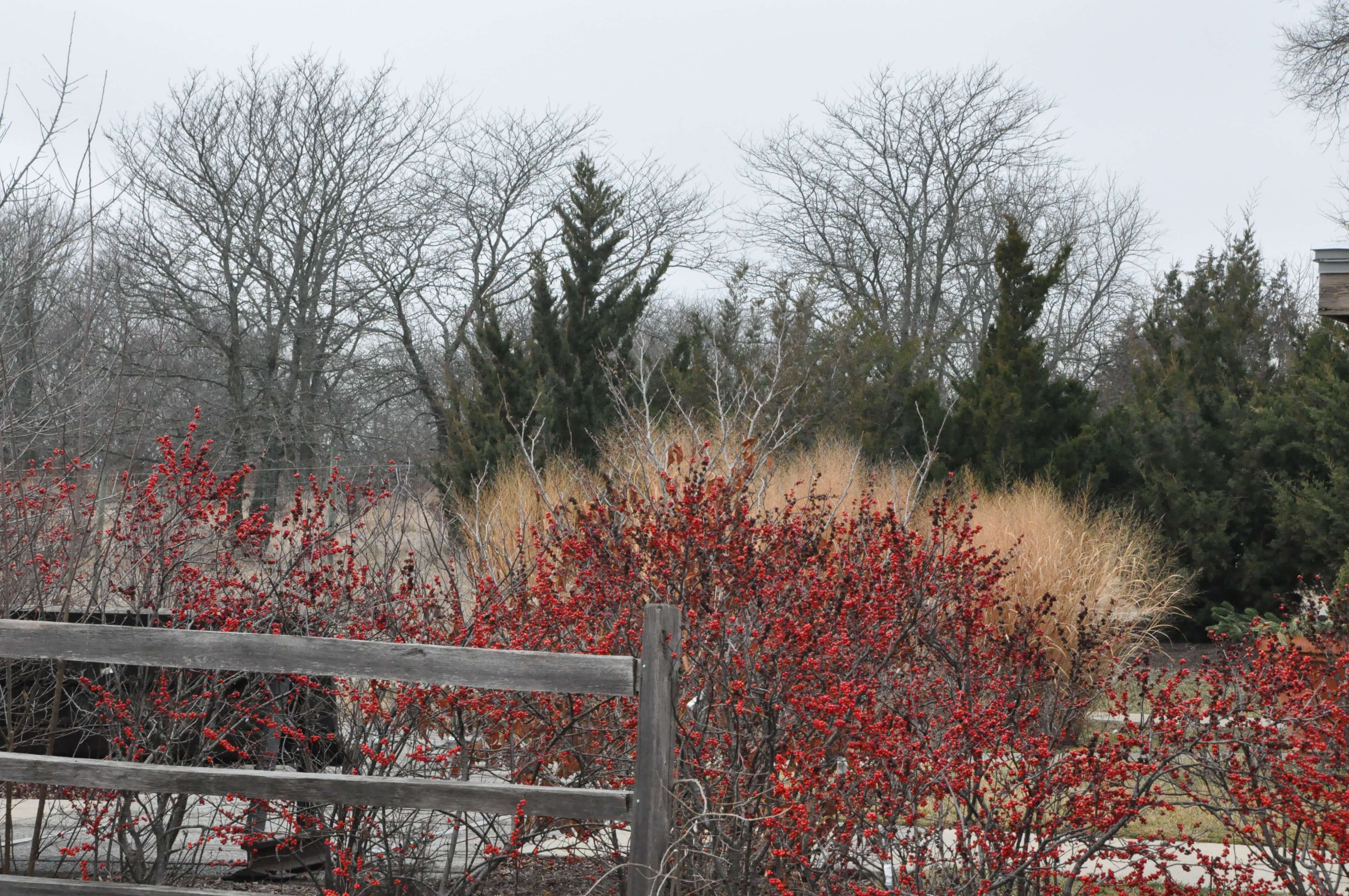 While the choice of plants that provide winter color isn't nearly as extensive as it is in the spring planting season, there are some options available that are guaranteed to brighten up the winter view. Dan Nelson, Senior Designer at Embassy Landscape shares some of his favorites with us.
RED TWIG DOGWOOD
Love red in the summer garden? Then Red Twig Dogwood in the winter garden is for you!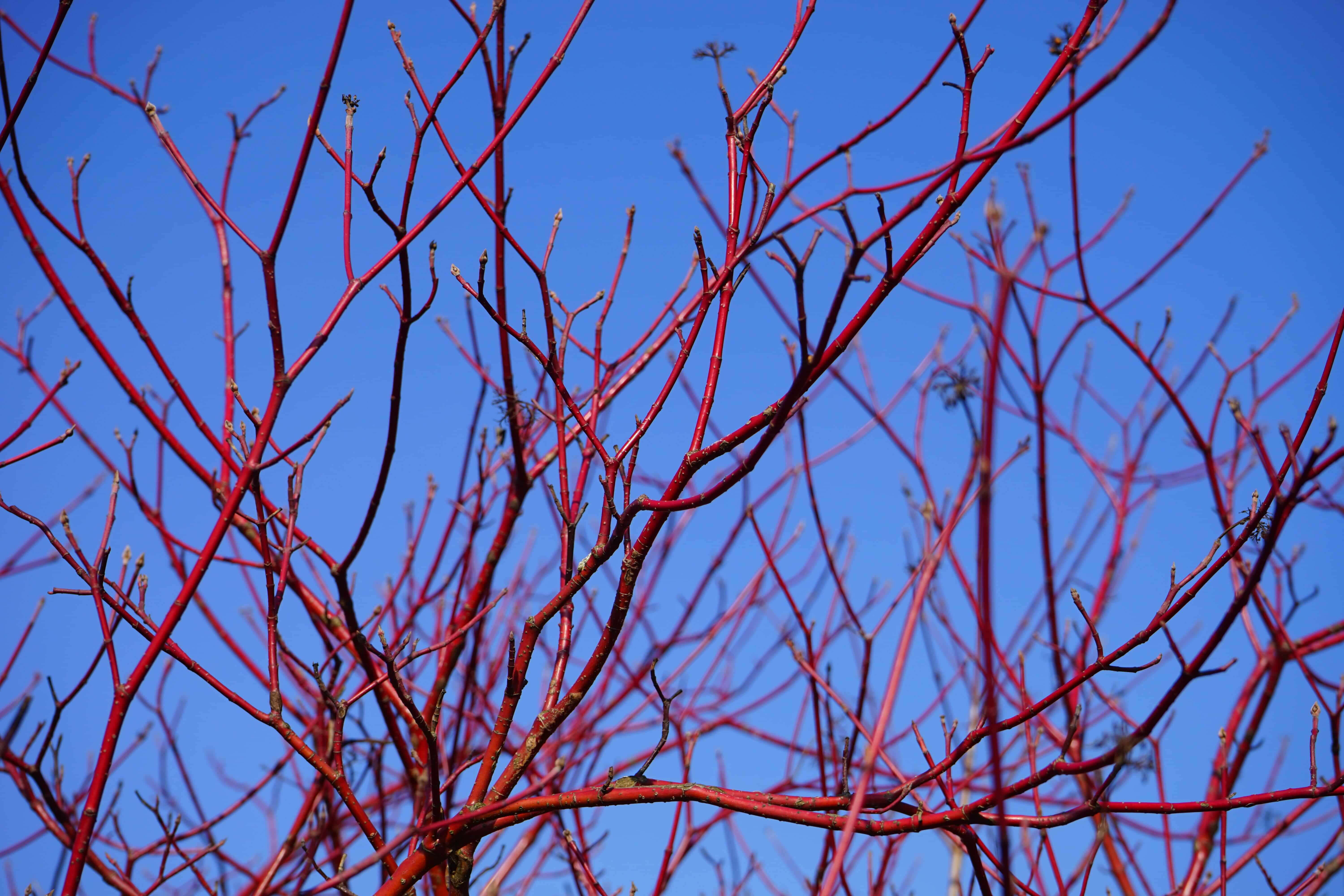 Clusters of bright red branches make a dramatic showing against a bright blue winter sky, a backdrop of evergreens or a blanket of white snow.
Beautiful as a specimen plant or used as a hedge, Red Twig Dogwood, Cornus sericea, thrives in full sun to part shade locations. It prefers an organically rich, moist soil but will perform well in boggy conditions or clay soils. While native species can reach a height of 7 to 10 feet, more compact cultivars are now available.
Although red twig dogwood requires minimal routine maintenance, it can be pruned if you wish to control its height. Since the red color is most vivid on young branches, removing about 25% of the oldest stems each spring stimulates a flush of new growth and improves winter color. Control unwanted spread of the plant by trimming root suckers with a sharp spade.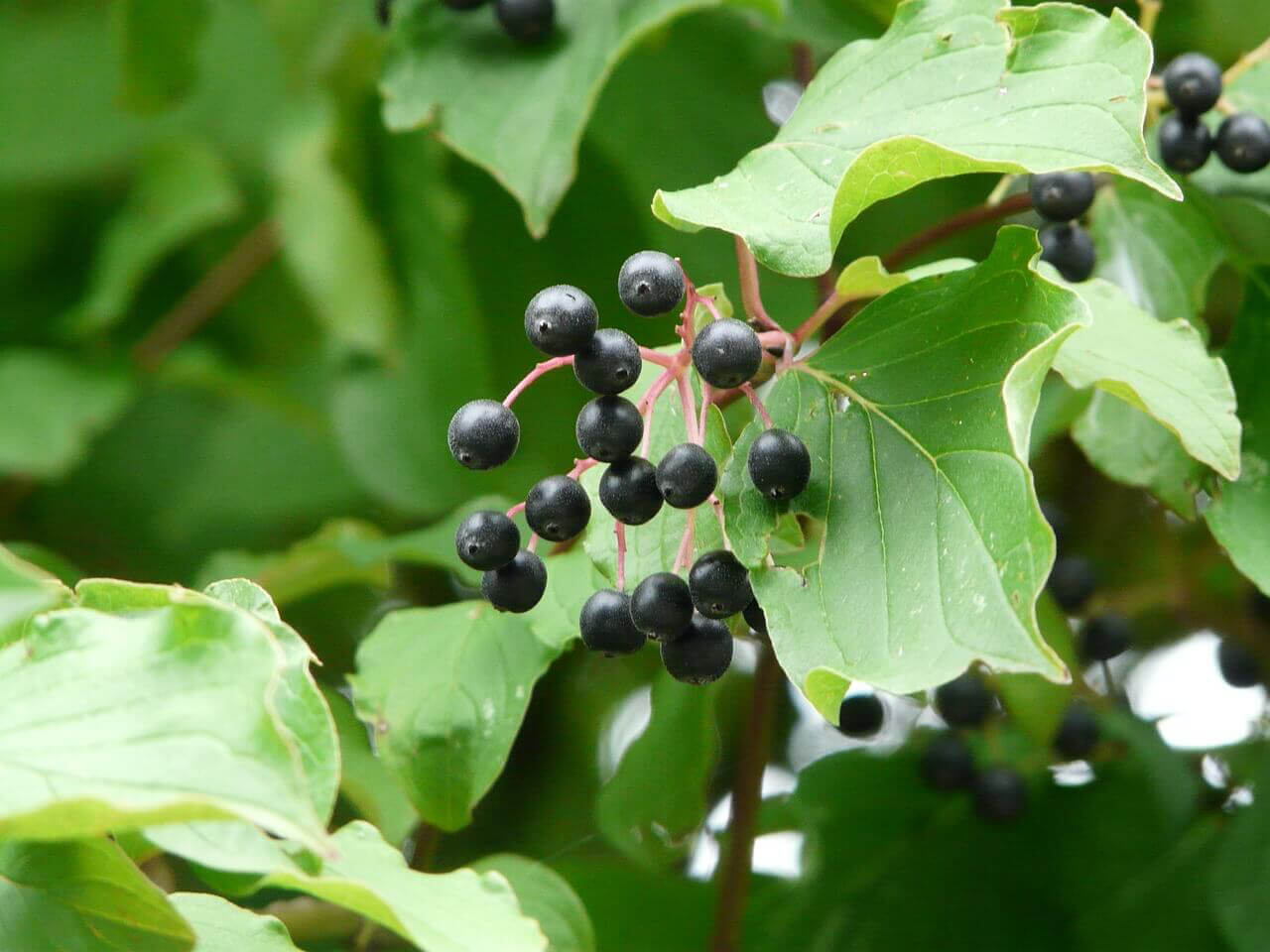 Not just a pretty face in winter, red twig dogwood features tiny, cream-colored flowers in the spring, bluish colored fruit in the summer and attractive yellow and red foliage in the fall. Hardy in zones 3 to 7, red twig dogwood is a must-have for adding brilliant color to your winter garden.
HOLLY
Would a glimpse of green lift your spirits on a grey, winter day? An American holly could be your answer.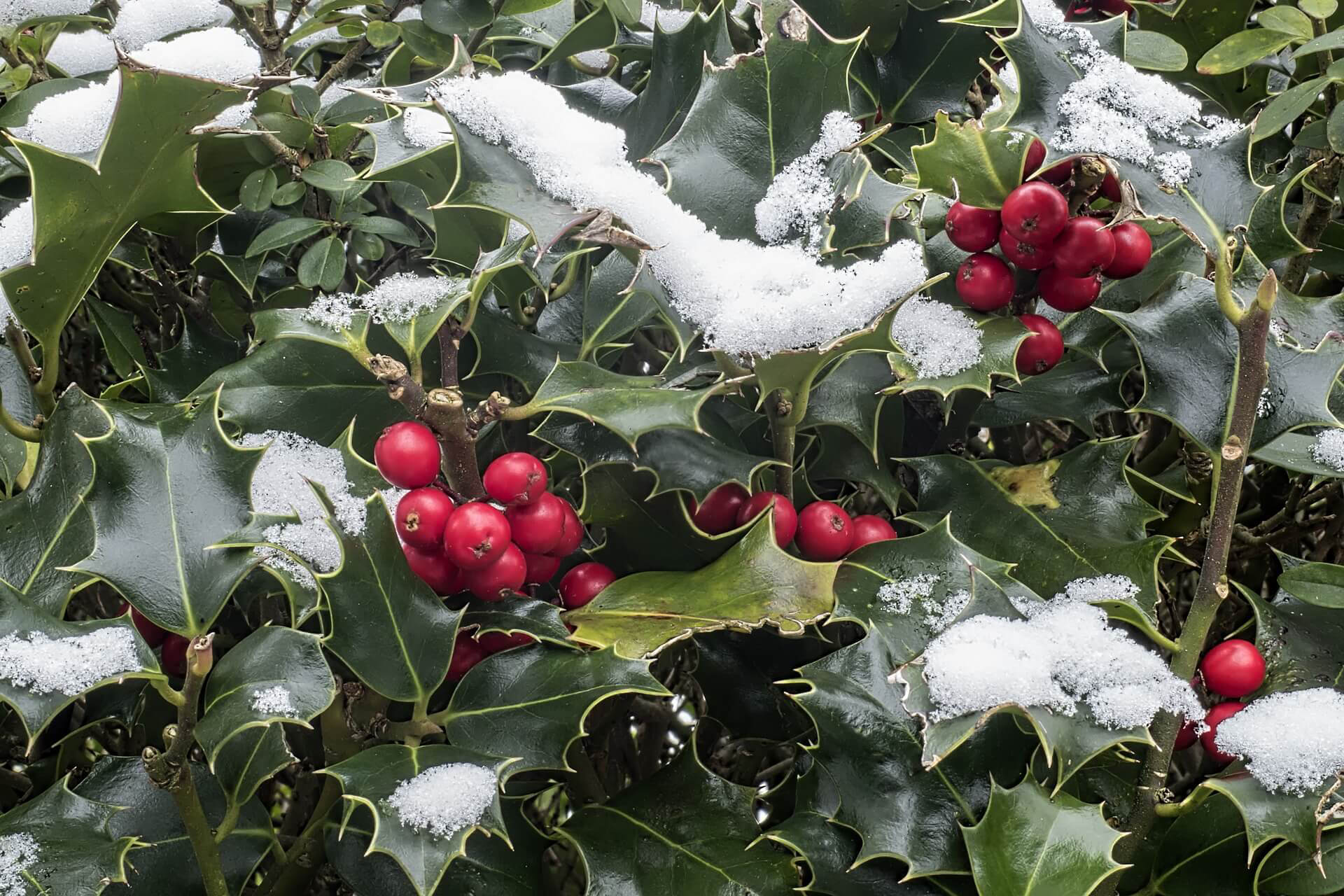 An abundance of glossy, dark green leaves set off by dozens of bright red berries serve as a daily reminder that spring really is coming.
Native to the eastern and central United States, American holly, Ilex opaca is a broadleaf evergreen tree. In the wild, the pyramidal shaped trees are known to reach 50 or more feet in height, but cultivated varieties typically stand between 15 and 30 feet if left untrimmed. They are striking as specimen trees, but also work well as foundation and hedge plantings.
Like other varieties of holly, American holly prefers consistently moist, acidic soil that is well-drained; it does not do well in saturated or alkaline soils. Six or more hours a day of sunlight is ideal for American holly, but it will tolerate a location in partial shade. This holly is hardy in zones 5 to 9, but when planted in colder climates, it appreciates protection from direct winter sun and harsh winter winds.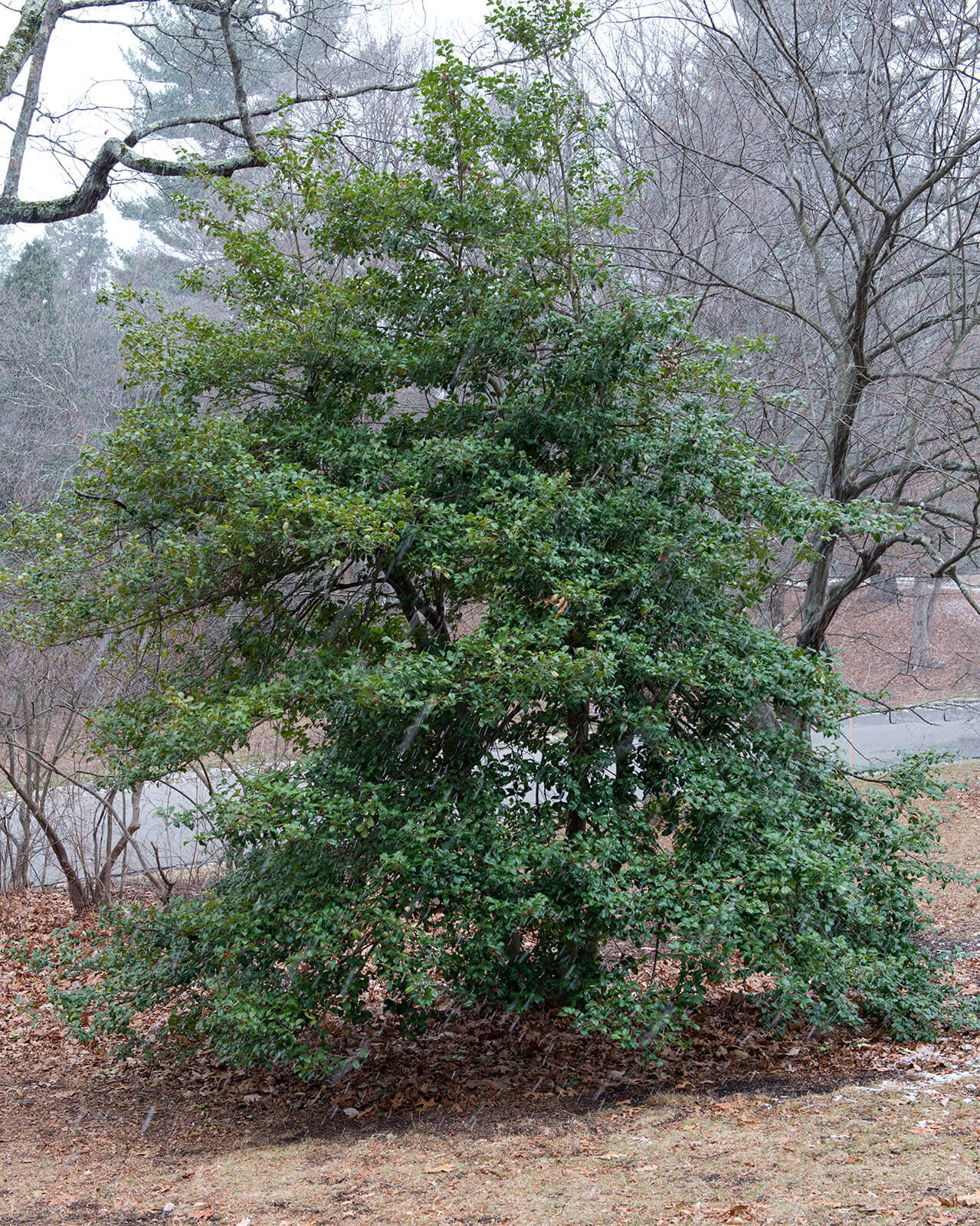 In order to produce the distinctive red berries that both people and birds love, American holly must have both a male and a female plant within pollination range of each other, usually no more than 50 feet apart.
PYRACANTHA
If the color orange makes you smile, then add pyracantha to your winter garden.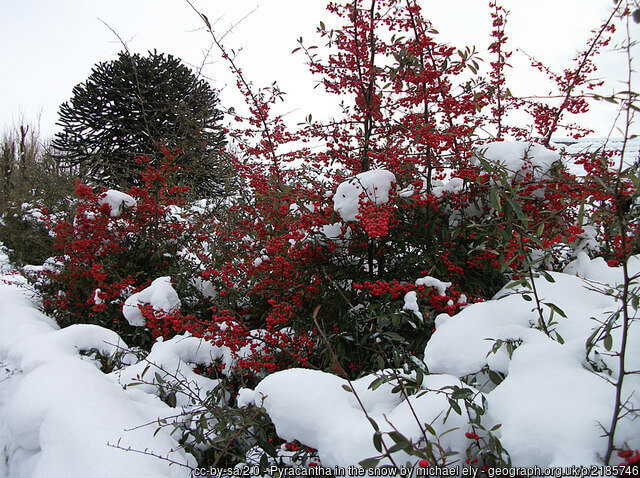 Evocative of the flames of a blazing bonfire, masses of brilliant orange berries lining the upright branches of a pyracantha plant, Pyracantha coccinea seem to dance in the winter winds.
Pyracantha, also known as scarlet firethorn, is a semi-evergreen to evergreen shrub which has graced American gardens since the early 1700s and continues to be popular today. Ranging in height from 6 to 18 feet, pyracantha can be grown in a wide range of climate and soil conditions. It prefers full sun and moist, mildly acidic well-drained soil, but will also do well in dry, alkaline soil in a partially shaded location or in a clay soil. Hardy in zones 5 - 9, firethorn appreciates protection from winter sun and wind.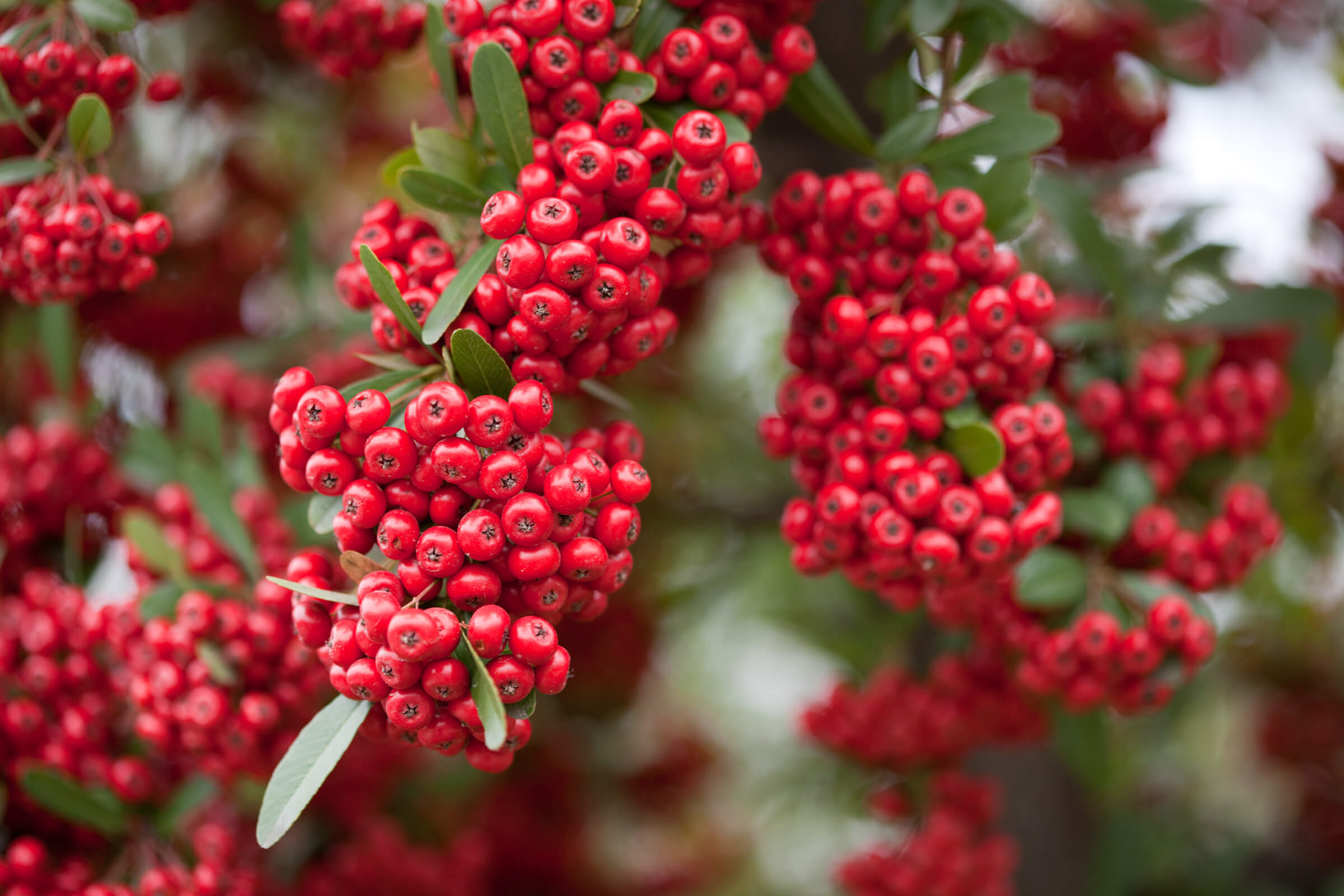 With its stiff, sharply pointed leaves and branches, firethorn makes an excellent barrier hedge that deer and rabbits tend to avoid. Birds however, will flock to the plant to eat the berries. Since pyracantha blooms on the previous year's growth, pruning after blooming reduces berry production. Unpruned shrubs tend to produce the most berries.